HOW ONE STATE'S ELECTION COULD IMPACT THE ENTIRE COUNTRY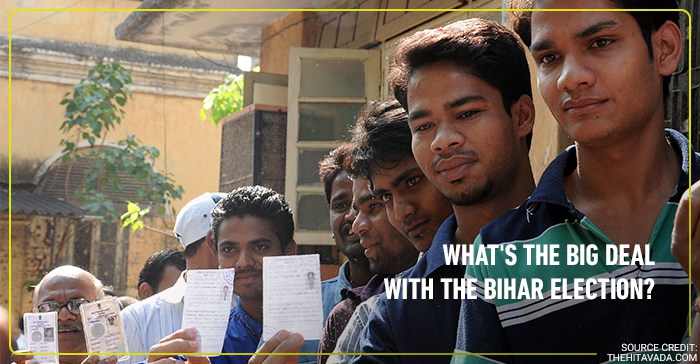 Will the 2015 Bihar election be instrumental in constructing a better India? The Bihar assembly election has caught national attention for several reasons. One one hand we have the people in Bihar choosing its representatives who would hopefully work towards Bihar's improvement, and on the other hand we have the ways in which Bihar elections will affect the centre.
We asked expert Richard Rego (scroll down for Richard's bio) about why he thinks Bihar election is important and how it will influence India, and here's what he had to say:
1. What are the most important concerns that people in Bihar need to demand from its leaders this election?
Accountability and transparency from its leaders. A strong and independent Lokayukta along the lines proposed by Anna Hazare. If the elected leaders are made accountable, a lot of things will fall in place.
Second, creation of jobs for its youth. Problems of crime and violence could be attributed to unemployment and lack of opportunities. These are two major areas that the electorate must demand to be addressed on a war-footing.
2. How is Bihar election a matter of national interest in terms of the impact it will have on the nation?
The on-going elections point to the development-potential of the country. For a long time, the rest of the country did not think of Bihar in compassionate terms, but the current crop of voters have proved how a thinking electorate can change the fortunes of a party on development-plank. If, for example, a dependable / 'meritorious' party is voted to power, there is the promise of development; the nearly 20% increase in women's literacy rate in the last five years is testimony enough.
Also, in the recent years, Bihar has shaken off its unenviable 'bimaru' tag. This bodes well for the country and fills the electorate with hope of development, elsewhere too.
On the flip-side, there is fear of other states which benefited out of Bihar's poverty! A developed Bihar will not have to depend on other states, like it had to all along. This may eat into the cheap work-force (construction, driving) and educational (students) migration to other states. Till it rains, everybody loves a good drought!
3. How will development in Bihar affect India's overall development?
In spite of its rich natural resources, Bihar is one of the least developed states of India (with a poor 0.3 on Human Development Index against the national figure of nearly 0.5). For now, India's progress has been highly skewed because of Bihar's (and a few Northern and North Eastern states') underdevelopment. A well-developed Bihar can add noticeably to India's employment, education, production, and GDP.
4. Migration is a major issue in Bihar. How do you think should this concern be addressed in this election?
The major reason for migration in Bihar is lack of educational and job opportunities in the state. If the authorities work towards job creation, better educational environment, and a fear-free society, migration will reduce; people feeding on the state's resources will also feed the state with their constructive output. Electors and the contestants should have this firmly etched in their minds. No-work = No-votes should be the mantra.
5. What is the significant role women voters play in this election?
Women voters constitute almost 47-48% of the electorate. It is a huge population to swing the tide in favour or against any party. They are the ones who are exposed most of the election campaigning at home directed through various media. It means, they are also aware of the candidate-profile. If women demand better living conditions, better job opportunities for their children, and disruption-free education, services and production, the "best promising party" will win, and we can hope for better delivery. In addition, alert and conscious women can influence the men-folk and their candidate-choice.
6. What is the significance of women politicians in Bihar elections?
Bihar has not been known for its women politicians. Probably, not many women are given an opportunity or permitted political consciousness to test waters. Consequently, men have continued to rule by proxy, even when the mandate was for women to govern.
There is an exception though: At a press conference in late 1990s, one of the former CMs, Rabri Devi (not in the limelight till she assumed office as CM), asked her husband to 'let her talk'! It means, if a woman is empowered, there is a chance for other women and oppressed groups to get out of the shadows of their political masters.
For now, the picture is a bit bleak: Of the 456 candidates in the fray in the second phase, only 32 are women, and of the 583 candidates in the fray in the first phase, only 54 were women, contesting 49 seats. This comes to a meagre 8.27% of women contesting in the first two phases, out of the 1039 total contestants in 76 Assembly constituencies; of these fewer are likely to win, bringing down the women-leaders' number.
It is like current Lok Sabha which has just 61 women in the 534 seats. Nothing much has happened at the national level; and nothing different may happen at the regional level, either. But the scope for hope is galore, given the transformation women can work out for themselves and households.
7. How important is the participation of the youth in Bihar election?
Youth form a huge chunk of the electorate, like in any other Indian state. The importance of youth participation has to be understood in the context of their exposure to social media. Politicians employing social media for campaign, stand to gain big time by luring the youth. So, if a party has something substantial to offer the youth in terms of quality education, good job opportunities, freedom of movement, and a safe and better society, it stands to gain from the youth votes.
Bihar can make a significant contribution to national development if the elected government is able to tackle the various issues affecting the state, and channel its resources to judicious use. The power to make a difference ultimately lies with us. We need to exercise our voting rights to choose a responsible government, and then also follow up with the government to ensure that it functions as it should.
To know more about voting-related issues and information, check out our Elections Section. You can also write to us at jaagorein@gmail.com, and on our Facebook page, or tweet to us at @JaagoRe