Are Smart Cities the Smart option for India?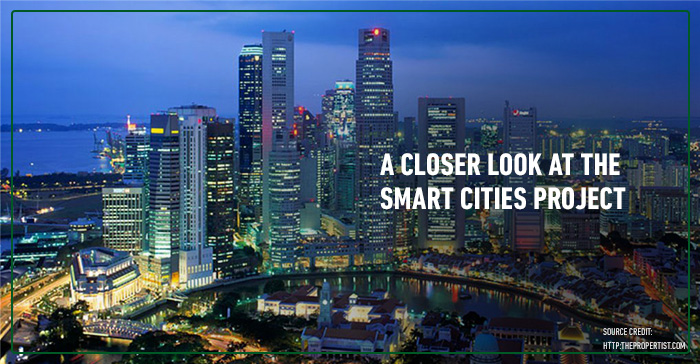 All Indian states, except Tamil Nadu and Telangana met the deadline of 15th December 2015 for submitting their smart city proposals.* The smart cities plan has been in news for quite some time, but many of us do not know what this project entails.
Rishabh Parakh (CA), an expert on finance and budget, shares his views on the smart cities project and explains how this plan will affect all of us.
What is the Smart City Mission?
Government of India recently launched this bold and futuristic initiative involving 98 Indian cities. These cities were selected from our various States and Union territories through a smart city challenge participation.
What is the need for creating Smart Cities?
We have already witnessed lot of urbanization and a tremendous growth in the past several years but the quality life has not increased at the same pace. The Smart city mission in India is aimed at making the selected cities smarter in terms of increasing the quality of life with optimum utilisation of resources.
How it will change our lives?
The Smart Cities mission will bring dramatic changes to improve the quality of life by various measures like adequate water and electricity supply, waste management system, intelligent traffic system, public transport, e-governance, full IT connectivity and digitization, better safety and security, good education and health services, and affordable housing for all.
What are some of the salient features and benefits of smart cities Mission?
One of the most interesting aspect of this project is that it calls for an active participation from the public by considering common people's ideas and suggestions. The idea is to have people participate actively in better governance and reform processes, and not limit them to a ceremonial presence. People's involvement, will not only help in increasing the sense of belonging but also deliver a sense of responsibility towards the city.
Intelligent security measures & smart traffic management to help minimize terrorist attacks and accidental deaths.
Generate employment and private investment in infrastructure development.
Attract FDIs in our Industrial and IT hubs.
Reduce the burden on Metro cities.
Serve as role models to towns and villages w.r.t. infrastructure and utilisation of resources
What are the key challenges in making Smart Cities a success?
While the overall concept and mission of developing 98 Smart Cities is praiseworthy, its overall implementation and success depend on several factors.
Our country is already facing many pressing issues like the ongoing struggle for "roti, kapda aur makan" (food, clothing, shelter) for a huge section of the society. Our villages still do not have adequate water & food supply apart from struggling for basic needs.
Our primary education system and health care facilities are barely functional in many regions, leading to a major imbalance between cities and villages. The focus has to be on minimizing this gap and simultaneously putting efforts to upgrade the overall living standard for all our citizens irrespective of our city and rural background.
If not planned in advance, it will increase further migration and people will keep migrating for better opportunities from villages to Cities thereby increasing the burden on the cities, and in that scenario even smart cities will not be able to live up to its promise of delivering and improving the quality of life.
In fact, our metros are also not developed with world class amenities as we all have seen in a recent Chennai Floods and the pressing need is to first fix our disaster-prone cities.
Capital investment required for this project is very high. Making sure that the entire process to raise funds will be 100% transparent and corruption free is a herculean task in itself.
Smart cities plan in India envisages common man's participation and to get them to work towards it, but this requires active political support and that again brings back the issue of lack of transparency in the administrative system.
Smart City Mission is a good initiative and the best option is to implement it in different phases. At the same time, the focus should not shift from overburdened cities and development of rural areas. Though smart solutions are good, they are certainly not a fix-all.
What are your views on the opinions shared in this article? Do you think smart cities is indeed a smart option for India? Write to us on our Facebook and Twitter pages, or send in your thoughts at jaagorein@gmail.com
Disclaimer:
Views expressed here are of the experts alone and do not necessarily represent that of the brand.
Source:
*Business Standard