International Day for the Elimination of Violence Against Women: Leave no girl behind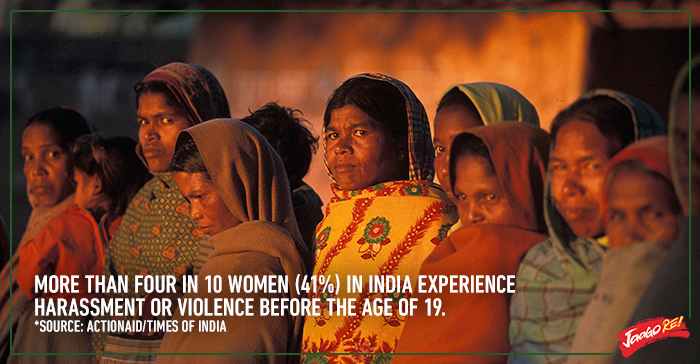 When activist and youngest-ever Nobel Prize laureate took a stand against the archaic mindset of treating girls as liabilities, she wasn't standing alone. She was accompanied by her father at every step. In a society where women empowerment was often looked down upon, Malala's father Ziauddin bought a change of tide. And, he started pretty early.
Failing to spot even a single female name in his family tree, he wrote down Malala's name on it when she was born. His choices as a dad inspired Malala to stand up, and a revolution followed. The ones who were suppressed are now demanding to be free, and this is what those who benefit from the silence of girls fear the most. However, at the end of the day, it is an effort that requires hand-holding without discrimination and an upbringing where girls are encouraged to dream.
On International Day for the Elimination of Violence against Women, Jaago Re spoke to two distinct women who share their side of the story, and their definition of being a woman in today's day and age.
Jaahnavi Sriperambuduru, the youngest mountaineer from India, scaled Mt. Elbrus, the tallest peak in Europe at the age of 13, which made her the youngest girl to ever do so. The 14-year old mountaineer now aims to scale the seven highest mountain peaks in the world with already several other records to her name.
"My mission to the seven summits including Mt Everest is to give the country the message loud and clear that Indian girls can achieve anything. I personally want to be able to grow to a stature where I can sponsor the education of girls," she said.
Apart from her regular passion for scaling newer heights every day, she also works for the development of Girl Child in India. For someone who is just 14-years old, it is quite incredible to have realised her responsibility towards the education of underprivileged girls at such a tender age. For the last 10 years, she has been raising funds from her climbing expeditions for the cause.
"While most Indian men go into a temporary depression when they hear about the birth of a girl child in the family, here is my dad who has staked his money, career and his life to see me up there, literally," she added. "I was raised in such a way so that I could face all sorts of challenges head-on and not knowing what fear really is. I climb mountains not because the world can see me but I climb mountains as I can see the world from the top."
While Malala and Jaahnavi had fathers who believed in setting no borders for their daughters, a 32-year old Prabhath wasn't as fortunate. Prabhath has a condition that doesn't allow her to hold a pen or write in ways we know of. A disability what many would treat as, Prabhath looked at it as an opportunity to be unique in her own way.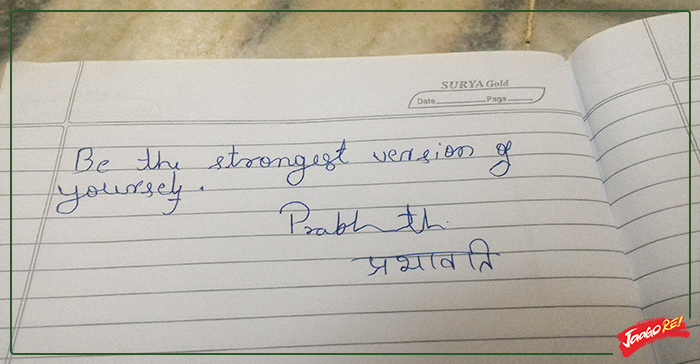 "When I was in the seventh standard, I was told that I can't pass since I can't write or remember. But, I wrote the exam and secured 89%. That shocked many, and then I was admitted to a city school. The school had changed, but the situation didn't. People would still ask me why I was trying to study despite being handicapped. But, it didn't affect me at all. I studied hard and finished the class with a score of 95%."
"Me finishing with such a high score attracted a lot of attention. There were reporters and writers who wanted to meet me, and I was on many local TV channels. When I was in college, a bank account was opened, inviting donations on behalf of my name. There is still a lot of money there - but I don't have access to it. The money, the publicity - this was overwhelming for my father. But, I wasn't happy with this. He would take me to functions even when I was reluctant. The money got to his head."
"He told me that I couldn't live a life without him, and that I will end up on the street. But, I wasn't having any of that. I left home, and told him that I will lead a life without him."
Her decision to move out of her father's house saw her move to Bengaluru. Not knowing anyone in the city and with no possession to call her own, she was all alone. Despite being an MA graduate, she wasn't able to secure a job for herself since her certificates were burnt by her father out of spite.
"When I came here, I didn't know anyone. I was ready to give up. I had it in my mind to just die, but didn't even know how to go about doing it. I was depressed. It was ultimately an auto driver who observed me, and led me to my current home. "He told me that he will be leaving me at this place, and that I could either choose to stay here or die. And, all I had to do was choose life."
Prabhat's workstation: a room tailor-made to suit her needs for audio recording
Prabhath insists that she is more confident, now that she is away from her restraining father. She keeps herself busy with her audio recordings - using her voice to read out textbooks for visually impaired children while also helping them out with their exams. She has been doing that for six months now.
"To everyone who neglected me, I would want to show them who I am. That's all. Be it my parents, my relatives, my friends, anyone through my work. I want to show them who I really am. I want to show that I'm no lesser than a normal person. That's my ambition."
We are now living in a world where violence against women and girls are globally recognised as human rights violation. A research conducted by ActionAid and published by the TOI states that more than four in 10 women (41%) in India experience harassment or violence before the age of 19.
When a girl is hurt, it hurts her chances of making a living for herself with her employment at risk and her inability to leave abusive relationships. It would never be possible to achieve society's full potential by leaving one-half of humanity behind. Women and girls cannot afford to do that, and they shouldn't have to. Empowering a girl means empowering the whole society.
What role do you think society can play in supporting every girl out there while working towards an India that is free of all forms of violence - physical, psychological and economical.
If you wish to share your thoughts about this article, write to us at jaagorein@gmail.comor just comment on our Facebook and Twitter page.