REACTING V/S RESPONDING - WHY DO WE REGRESS WHEN IT COMES TO RAPE?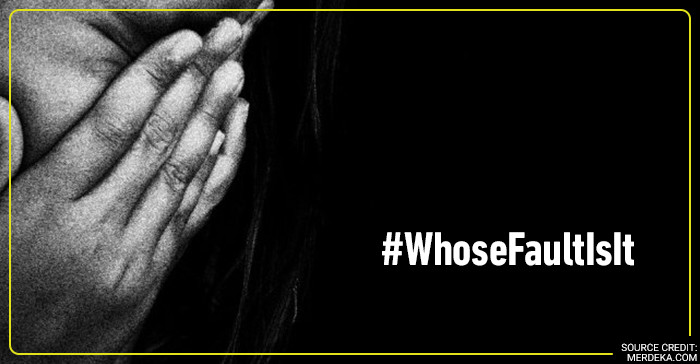 "Rape is nobody's fault but one has to dress desirably"
Why is this statement wrong?
Arguably, there are two very wrong claims in this comment - one that rape is "nobody's fault", and that one has to "dress desirably" so that nothing such as rape happens.
Every time an incidence of rape hits the news, we see people and the media telling us how the victim was at the wrong place, at a wrong time, and how very stupid it was to do so. Why do we prefer to blame the victim and not the perpetrator of crime?
To know more about this issue, we conducted a twitter chat on 'Victim Blaming-Society's reaction to rape' with experts Rashi Vidyasagar (NGO Programmes officer), Paras Sharma (Coordinator at iCall a psychosocial helpline), and Vidyut (Socio-political blogger). Here are a few interesting points raised in the chat:
Questioning the media
Reaction to news reports
Lack of reaction
There have been more than 68,000 rapes cases from 2009-2011, but only 16,000 people were convicted. India has been battling the rape menace, but it seems like it's a losing war. Citizens who are supposed to be safeguarding the rights of the victim have turned against them.
How do you think we can stop indulging in what has now become a "spectator sport," and actually help to prevent further assaults?
Write to us with your views to jaagorein@gmail.com or tweet to us @JaagoRe. You can also reply to the questions we asked during the chat.
Disclaimer:
Views expressed here are of the author alone and do not necessarily represent that of the brand.