FIGHT DOWRY, NOT 498A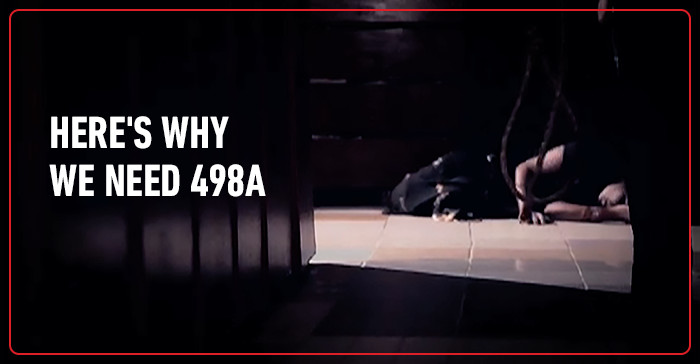 One woman dies every hour due to dowry harassment in India. *
The anti-dowry harassment law (498A) has helped women gain confidence to come and report domestic abuse, but there has been an increasing anger towards it. As the debate continues on the use and misuse of it, we decided to ask Namita Bhandare, a journalist and gender editor at Mint, a few questions about the way society has changed in terms of perceiving gender violence like harassment for dowry, and how this law grants or denies justice. Here's what she said:
1. We have been seeing a backlash of 498A due to its misuse. How can this be prevented?
I am frequently amazed at the vigilantism against 498A. If only we were equally vigilant about all the other laws being misused.
To answer your question, is 498A misused? Yes. Undeniably. It is misused just as every other law is misused. Taxation laws are misused. Criminal laws are flouted. Our anti-terror laws frequently err in arresting innocent people for years. Yet, I don't hear anyone suggest that we scrap our anti-terror laws.
2. The government has proposed to amend the law (498A). Do you think this will help?
Continuing with my earlier response, I think we need to understand who is misusing 498A and why.
(i) Litigants have no idea about legal provisions. It is lawyers who frequently advise clients to file cases under 498A. They do this for a variety of reasons, but most often they do this because they believe that 498A will give women their only leverage in cases of maintenance and custody. So any talk of reforming the law or changing it, must take into account reform in the maintenance and custody procedures too, making these fairer and more transparent for women.
(ii) Any talk of reforming or amending this section, must also make the process of divorce easier and simpler, particularly in cases of mutual consent. Yes, courts can play a mediatory role but ultimately they need to understand that when two adults no longer wish to continue with the marriage, they should not attempt to prolong or protract it in any way.
(iii) The constituency that misuses 498A is the constituency that is liable to misuse most laws anyway. But the majority of women in this country do not have access to courts and lawyers. They suffer domestic violence and dowry harassment in silence. By removing or watering down 498A, you will be removing the only protection they have in law, even if it is a protection they do not or cannot avail of.
(iv) Today we have forgotten the horror of dowry deaths that were dismissed as 'kitchen accidents' that played out prominently in media through the 1980s. Yet, dowry deaths and harassment as per NCRB data is up.
(v) We need to once again bring back anti-dowry campaigns. We should have done away with dowry altogether by now, yet marriages have become more ostentatious, with the brides' family still paying huge amounts of dowry. We have an existing Beti Bachao Beti Padhao campaign: why not use this campaign to send out an anti-dowry message?
(vi) Finally, there are provisions in our statute books against the filing of false complaints that lead to arrests. If men's rights groups are concerned about false cases, then they must invoke these sections and seek the protections they already have under the law.
3. Some people believe that the 498A and anti-rape law are against men? What are your views on this?
Against men, no. Against criminals, yes. If the perpetrators of rape and dowry harassment are men, then these laws are against them. But I don't see how they are against men as a group. Let's not forget that we have many, many men who are supporters and enablers of women's aspirations. Why tar them with the same brush as men who commit crimes?
4. What differences do you see in the laws for women in India and other countries?
I am not a lawyer or even a legal expert so I am not really qualified to answer this question. But as a journalist I do see a fair amount of progressive legislation in our country.
while on one hand the anti-dowry harassment law (498A) has provided justice to many women who were victims of domestic violence, on the other, many women have misused the law. Do you think this warrants for it to amended or scrapped? Write to us with your views and opinions to jaagorein@gmail.com or tweet to us at @JaagoRe.
Disclaimer:
Views expressed here are of the author alone and do not necessarily represent that of the brand.
Namita Bhandare is gender editor, Mint. The views expressed here are her own and do not necessarily reflect those of her newspaper.
Sources
*The Telegraph