How does the Trafficking of Persons Bill propose to #FightHumanTrafficking?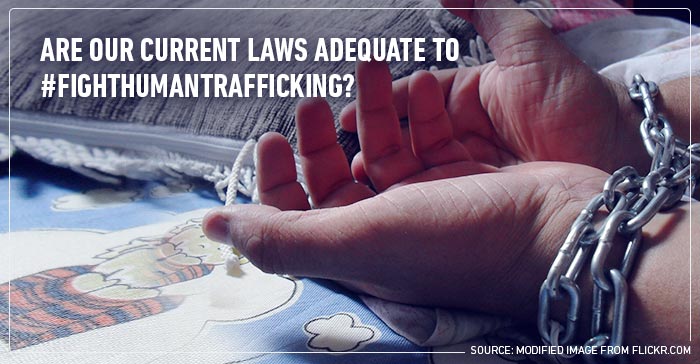 India is a part of the most active region when it comes to human trafficking. According to NCRB data, India saw a sharp increase in 2014, and women and children make up around 76% of the total human trafficking cases. Statistics related to Human Trafficking in India show that the situation is quite grave.
To address this menace, a bill was proposed in 2016, and it is still pending in the parliament. As we observe the National Human Trafficking Awareness Day, here's a brief overview of a few proposals made in the Trafficking of Persons (Prevention, Protection and Rehabilitation) Bill 2016:
Every district shall have a District Anti-Trafficking Committee which will be responsible for prevention, rescue, protection, medical care, psychological assistance, skill development and need-based rehabilitation of victims.
The Central Government shall set up a committee to oversee the implementation of the Act, and also constitute a Special Agency for investigation of offences under the Act.
Protection Homes shall be set up for the victims of human trafficking where they will be provided with all necessary care and aid. Victims will also be provided with long-term institutional support for their rehabilitation.
Schemes and Programmes will be implemented to facilitate social integration of victims into the mainstream society, especially for women rescued from prostitution or any other form of sexual exploitation.
Any form of disclosure of identity of victims or witnesses, or disclosure of details from an investigation or judicial procedure which can lead to identification of victims or witnesses shall be a punishable offence, with up to six months of imprisonment and/or a fine up to one lakh rupees.
Use of narcotics, psychotropic or alcoholic substances for trafficking is punishable with 7 – 10 years of imprisonment and/or a fine not less than one lakh rupees. Administering chemical substances or hormones to a trafficked woman or a girl or a child for earlier sexual maturity and exploitation shall be punishable with 7 – 10 years of imprisonment and/or a fine not less than one lakh rupees.
To provide a speedy trial, the State Governments, in consultation with the Chief Justice of the High Court specify a special court in each district. The State Government shall also designate a Police Officer of the rank of Gazetted Officer to be an investigating officer for offences under this Act.
A person prosecuted under the Act shall be considered guilty, unless it is proven otherwise by the judicial procedure. (the entire draft of the Bill is available at the Ministry of Women and Child Development Website)
While the Bill addresses many concerns w.r.t fighting human trafficking legally, there are many ways in which the society can help make such Acts and laws more effective. Knowing our laws and being prepared to take steps against trafficking is crucial in this aspect.
What are your views on the provisions under the Bill, and what do you think are the most effective ways in which we as citizens can fight Human Trafficking? Share your views with us on our Facebook and Twitter pages, or write to us at jaagorein@gmail.com.
Sources:
Ministry of Women and Child Development
Trafficking of Persons (Prevention, Protection and Rehabilitation) Bill 2016
Indiaspend