5 points to understand the Compensatory Afforestation Fund Bill, 2015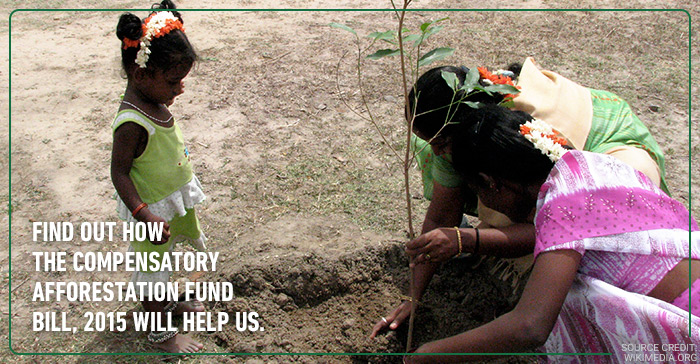 The Lok Sabha passed the Compensatory Afforestation Fund Bill (2015) on 29th April, 2016 to establish funds for nationwide afforestation programmes. The Bill received support from people across different parties, and is expected to be instrumental in increasing the green cover in the country.
Here are a few points to help us understand the provisions under the Compensatory Afforestation Fund (CAF) Bill:
1. The Bill establishes the fund at a national level under a Public Account of India, and at state levels under the Public Account of the states. The Bill also establishes institutional mechanism at the national and state levels to ensure efficient use of the funds.
2. The national fund will receive 10% of the amount under this bill, and 90% of the funds will be given to the state funds. The main focus is to reduce the impact of diversion of forest lands, create productive assets, and also increase employment opportunities, especially in the rural sector.
3. The Bill also focuses on judicious and efficient use of unspent amounts with the Compensatory Afforestation Fund Management and Planning Authority (CAMPA), which is INR 38,000 crore, and additional INR 6000 crore per annum from the accrued interest on the unspent balance. The proposal does not involve any additional expenditure on the Centre.
4. The payments under the Bill will be allocated for compensatory afforestation, net present value of forests (NPV) which evaluates the loss of forest ecosystem, and other projects related to forests.
5. The proposed legislation will also look at providing safety, security and transparency in utilisation of the funds, which are currently kept in Nationalised Banks and are being managed by an ad-hoc body.
Read more about planting trees this summer
This Bill is a good step by the government towards ensuring environment protection and safeguarding the interests of communities dependent on forests for their survival. While the government is doing its bit, we too need to take up the cause of protecting and conserving our environment.
What do you think we as citizen can do to enhance green areas in our country? Share your views on our Facebook and Twitter pages.
Sources:
Press Information Bureau, Government of India
PRS Legislative Research
The Hindu