USING THE POWER OF SPORT FOR EMPOWERING INDIA'S GIRLS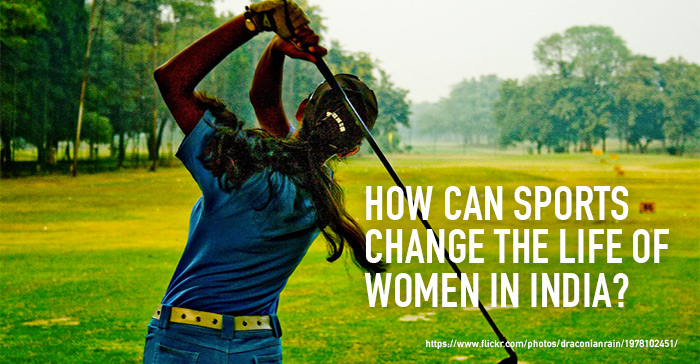 The T20 World Cup 2016 saw an unprecedented spike in Indian media coverage of the women's T20 matches. Social networking sites buzzed with posts about the women's match against Pakistan and slogans like Chak De India and Jeetay ga bhai jeetay ga reverberated in the stadium, just like they do for any other match. Complementing this spirit was the advertising campaign by the Board of Control for Cricket in India (BCCI) featuring women cricketers and their male counterparts as equals.
In a country where sport has historically been associated with masculinity, it remains to be seen whether we have reached a turning point for women's sport, but the conversation around it has certainly grown louder.
Why is this important?
Girls and women in India are being denied opportunities for development at all levels due to limited mobility, poor education, early marriages, high levels of violence, and a lack of freedom to make decisions. Adolescent girls are particularly vulnerable – only 29% study until grade 10, almost half are married before the age of 18, and over 30% face domestic violence.
How does sport help?
Sport can be used as a powerful tool to:
Given that sport is traditionally viewed as a male domain, the participation of girls breaks deep-rooted attitudes held by boys, families and communities and challenges entrenched gender stereotypes such as 'girls cannot run freely outside the house' and 'girls cannot be leaders'.
Provide access to resources
Community and institutional resources are often limited for girls. Sport programs can provide them with access to mentors, strong female role models and the social support of a team or group of peers. It can also give them access to public spaces, especially in societies where their mobility is restricted.
Sport involves leadership roles such as captaincy, coaching and refereeing that can enhance girls' self-confidence. Improved perception of girls' abilities amongst the girls themselves and their families also enhances respect for one's body, a sense of belongingness, ownership, decision-making skills as well as a sense of identity beyond the domestic realm.
Where then, does India stand?
Well-designed sport programs have shown to prevent disease, increase school attendance and build skills that promote employment. These benefits are especially important for adolescent girls given that they are a particularly vulnerable group. Yet, sport as an organized mass-based activity in India is almost absent, especially for women in sport. It is considered as either luxury or leisure, leading to unstructured efforts to encourage participation. India lags behind other countries not just in medals in international sport, but also in promoting a culture of participation in sport.
What can you do to help?
To begin with, you can spark dialogues to convince those around you about the benefits of sport. Learn about the sport initiatives in your community, and talk to your local NGOs about what you know. You can also engage key influencers in your community to provide playgrounds that are safe and accessible to every girl in your locality. Finally, you must encourage every girl to come out to play, and by nurturing their talent, help some of them to become champions and leaders of tomorrow.