DETAILS TO GIVE WHEN FILING AN FIR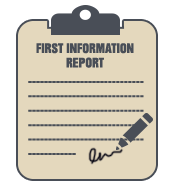 If you are a victim or witness of a crime give clear descriptions of all that you experienced, saw or remember. If you are filing an FIR for a crime that you have second hand knowledge of, then report exactly what you were told or what you heard. Information should never be exaggerated or false.
Important details to include are the date, time, location and a description of the culprits or people involved. The sequence of events that occurred and details of what each person did or said.
REMEMBER THAT NO DETAIL IS TOO SMALL OR INCONSEQUENTIAL TO MENTION!
When giving details in an FIR report try and be as objective as possible and not let emotions come in the way. Stick to the facts and keep the report free from any assumptions or conclusions you might have drawn.