10 things you need to know about the Transgender Bill 2016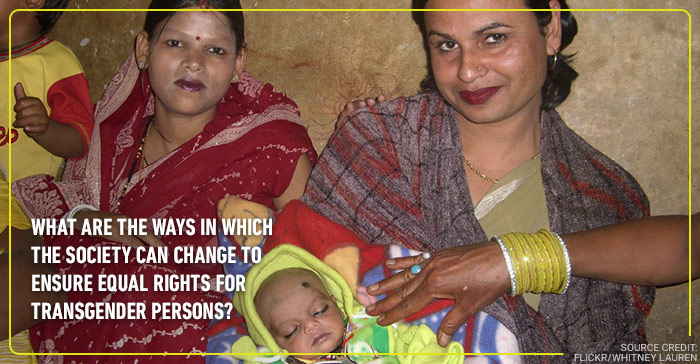 The Union Cabinet approved the Transgender Persons (Protection of Rights) Bill 2016 for introduction in Parliament, and this Bill is expected to bring social, educational and economic empowerment to the transgender community. To a community that has been ostracised and discriminated against for so long, this Bill could mean a chance to live a life of dignity and equality.
Here are a few points to help get a better understanding of the provisions in the Bill:
The Bill makes it illegal to force a transgender person to leave residence or village, remove their clothes and parade them naked, force them into begging or any kind of bonded labour. These acts will be punishable with up to two years of imprisonment, along with a fine and also asks for amendments in the law to cover cases of sexual assault on transgender persons.
The Bill also criminalises denying a transgender person access to any public place and causing them any physical or mental harm within and outside the home.
It guarantees OBC status to all transgenders not born as SC or ST, and entitles them to reservation under the respective categories.
The Bill identifies 'Transgender' as the third gender and gives a transgender person the freedom to identify as 'man', 'woman' or 'transgender', independent of surgery/hormones. They cannot be referred to as the 'other' gender or as 'others', but only as transgenders. A certificate of identity as a transgender needs to be issued by a state level authority and this certificate should be acceptable as gender identity for any official document like passport, aashar card, etc.
It also ensures that transgender persons or transgender children enjoy the right to equality, all human rights, right to life and dignity and personal liberty as guaranteed by the Constitution of India.
All government institution shall provide inclusive education and shall not discriminate against any transgender student and also provide transgender students with scholarship / entitlements, free-waiver, textbooks, hostel accommodations, other facilities and subsidized rates. Additionally, all educational institutions need to have an anti-discrimination cell to monitor discrimination against transgender students.
The government shall also set up rehabilitation and welfare programmes, information centres, sensitization programmes, etc. for transgender persons and provide necessary orientations to sensitize people in educational institutions and elsewhere.
The Bill instructs law the police to provide every assistance under the law to an aggrieved transgender person, and also to put the person in touch with the nearest organisation for rehabilitation of aggrieved transgender persons.
The Bill instructs the government to support and facilitate employment of transgender persons, especially for vocational training and self-employment, provide loans, and to ensure that there is no discrimination against transgender person at workplaces.
Under the provisions in this Bill, transgender persons shall also have equal rights and access to a cultural life, leisure and recreational activities.
The Transgender Persons (Protection of Rights) Bill aims at ensuring that transgender persons enjoys a life of dignity and equality as an Indian citizen, and guarantees a basic human right that had been denied to them for so long - right to identify as a member of our community and as equals. The Bill also instructs state mechanisms to include all possible provisions to ensure that no transgender person faces discrimination in India because of their gender identity.
Jaago Re believes that this is an iconic step by the government of India towards ensuring an equal, unbiased and awakened society. Now it remains up to us to take this vision from the government to fruition. Share your views on the Bill with us on our Facebook and Twitter pages, or email at jaagorein@gmail.com
Sources:
PRS India
DNA
The Indian Express